Get ready for Porn Appreciation Month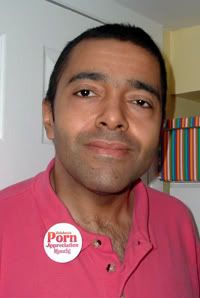 Porn Appreciation month is in May, but it's never too early to start getting ready, especially since today is
James
's birthday!
I've declared May "Porn Appreciation Month" as a response to "Victims of Pornography" Month, a project of Citizens for Community Values. CCV's mission is to promote their version of Judeo-Christian values by trying to stop anyone from expressing contradictory ideas, particularly as related to sex. (I'm reminded here of James' post on the problem with Christianity...) Their focus is on pornography, which they claim causes sex crimes, and homosexuality.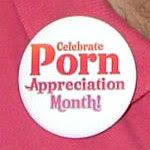 Claiming that your average porn showing consenting adults enjoying themselves will turn people into rapists and child molesters defies common sense. It also contradicts the facts—countries which have less censorship of porn, even violent porn, also have less sex crime (see the studies cited below). Also, removing porn isn't magically going to change rapists and child molesters into kind, considerate people.
Porn does not cause crime. What it does cause, for millions of normal adults, is sexual arousal, pleasure, and release. We should be celebrating porn, not banning it. So buy your Porn Appreciation Month button, T-shirt, or bumpersticker today!
References
Pornography, sex crime, and public policy (PDF). Interesting quotes: "[...]sex offenders generally reported sexaully repressive family backgrounds, immature and inadequate sexual histories and rigid, conservative attitudes towards sexuality. During adolescence they had less experience with erotica than other groups. As adults, sex offenders seemed to catch up with other categories, but did not use pornography more frequently than others; and sex offenders did not differ significantly from other adults in their reported arousal or reported likelihood of engaging in sexual behaviour during or following exposure to pornography." (page 44) "The aggregate data on rape and other violent or sexual offences from four countries were pornography, including aggressive varieties, has become widely and easily available during ht eperiod we have dealt with would seem to exclude, beyond any reasonable doubt, that this availability has had any detrimental effects in the form of increased sexual violence." (page 53)
The effects of pornography: An international perspective. Interesting quotes: "...if anything, there is an inverse causal relationshop between an increase in pornography and sex crimes." "There is, however, no evidence that pornography is in anyway causal or even related to such terrible and regrettable crimes [domestic violence and child abuse]"